Three Oaks Elementary's PTO will be holding their Annual Bear-A-Thon on October 13th and 14th.
The funds received this year will be used by the PTO to complete our recently updated PE area, and provide field trips for each grade level.
As you know, Three Oaks Elementary was the first Core Knowledge school in the nation and we pride ourselves on our students' success with this program.
PTO supports the school by funding Core Knowledge events and providing Core Knowledge Materials for the classroom.
Each student will raise funds by asking sponsors, such as parents, friends, and family members to contribute a tax-deductible donation! Please do not approach strangers !! All students will participate in an obstacle course during their P.E. Specials on October 13-14. Students will be provided water.
Help Us Reach Our Goal!!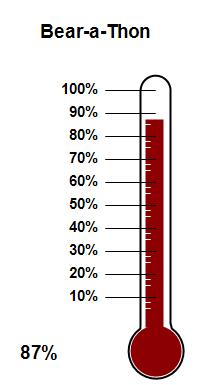 Top Prizes Awarded
1st Place - HP Laptop
2nd Place - Insignia 8" Tablet (2 winners)
3rd Place - Bicycle
A 5th grade student with the highest donation amount will win a ticket for the Busch Gardens 5th Grade Field Trip.
Students with $10, $25, and $50 donations will each receive a duck
Top Grade Level: Wins a grade level Bounce House and Popsicle Party!!
Any student that raises a goal of $50 will be entered into a drawing to win exciting prizes like
Zoomers, Skyzone, PDQ, Target, Great Clips, Pizza Hut, Beef O' Brady's, The Olive Garden, First Watch, & much more!